WHY A-SSM?
•  Some disciples are inclined to practical hands-on ministry
•  A team of teachers with a wealth of ministry experiences and spiritual giftings can impart to the learners
•  There is a  need for trained workers in the realm of God's power
•  There is a hunger for a sound supernatural ministry.
OBJECTIVES
•  To activate disciples in the supernatural ministry
•  To focus on sound practical ministry
•  To have teachers who are specialized in their supernatural ministries to impart their giftings to students
MISSION STATEMENT
The School aims:
•  to produce disciples of faith to demonstrate and move in the power of the Holy Spirit
•  to train disciples to use supernatural gifts of the Spirit and to touch the people by healing their bodies, souls & spirits
•  to train disciples to preach, teach, heal and deliver people from evil spirits
HOW TO REGISTER
REGISTRATION FOR A-SSM 2021
Register here –> https://bit.ly/3q47bXP
Registered participants will be invited to join the class on Zoom and on-site when that option is available on selected dates. 

Notes and Powerpoint slides from the lecturers will also be made available to registered participants only.

Class sessions can be viewed here live on this Facebook Group. 
Register today to get the full A-SSM experience!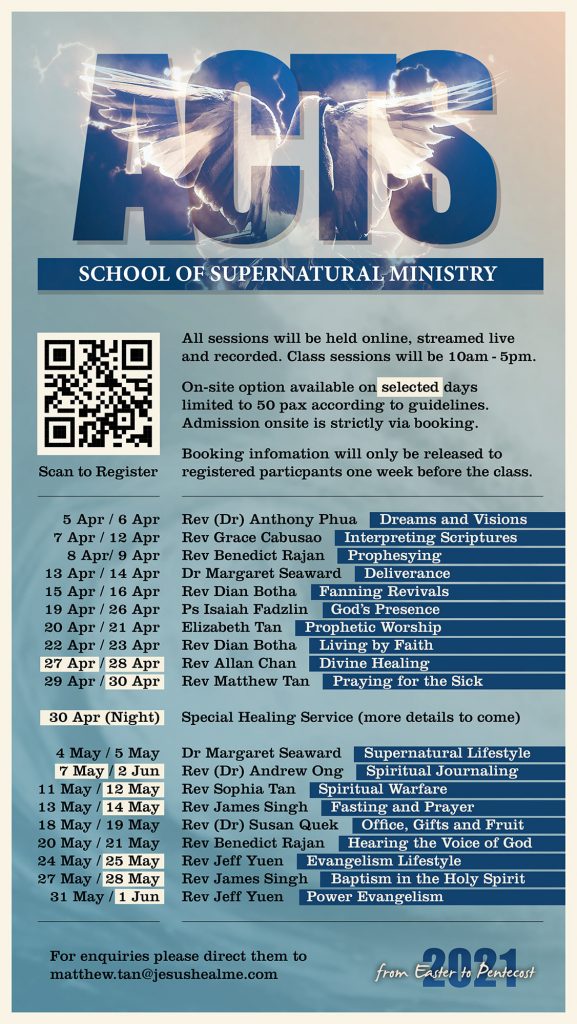 A-SSM workshops are free but those who like to share the expenses can give